Use 'tax-friendly' methods and materials without increasing costs.
WHY BUILD WITH COST SEGREGATION IN MIND?
ELB provides up-front design guidance to you and your team in order to maximize your tax savings. Did you know that you can typically receive an additional 6-10% on top of your existing cost segregation tax benefits by working with our team? Contact our design team to receive your complimentary cost segregation design guidance on your next project.
Let us optimize your blueprints for tax benefits.
HOW DOES IT WORK?
Some construction methods & materials allow you to depreciate your building assets as quickly as 5, 10, or 15 years instead of the traditional 39 or 27.5 year staight-line depreciation. Our team will review your complete plans and specs and help you identify these tax-friendly opportunities. Building with cost segregation in mind can substantially increase your cash flow.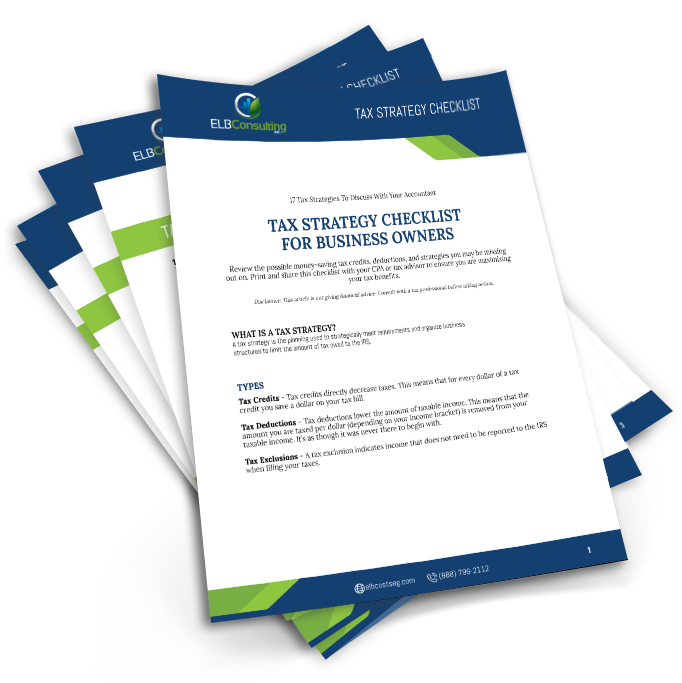 17 Tax Strategies For Business Owners
TAX STRATEGY CHECKLIST
Discover 17 tax strategies to bring to your accountant and ensure you're making the most of your tax benefits. Enter your email address to download your free, printable copy.
What Are Our Clients Saying?
"I want to thank ELB for helping us with a cost segregation study on our retail assets. The benefit to our company, as a result, have been astounding."
"ELB Consulting cost segregation study discovered over $395,000 in adjusted cash flow and benefits for my car wash property. I was so impressed with how it worked, I am getting the study done on two more of my car wash/retail stores."


Step Two:

We perform a fully-engineered study of your property.

We'll do all the heavy lifting to find you the maximum tax deductions you qualify for.

Step Three:

We deliver your 'CPA-ready' report.

Get a completed cost segregation study that decreases your tax liability and puts more money in your pocket.